Comfortable well insulated home
Two heat pumps
Aluminum-framed double glazing throughout
large section
I'm not quite ready to market this house yet, but I'm going to be adding to this page and will be putting the latest additions before older ones as I explore taking real-estate photos.
No doubt I'll break every rule in the photography manual, but that's how I learn. 😋
Entrance Foyer
Straight off the driveway, one step up onto the porch and then thru a double glazed double door is the entrance foyer.
From there, go left into the lounge. There is also ample space for a coat rack next to that. Straight in front is the bathroom, and in this picture I am emerging from the alcove on the right that gives access to the two main bedrooms.
Kitchen
Entering the kitchen through the slider from the living room, the food preparation area is to the right measuring 2m30 x 3m. Light and airy with a Window on the North East over the sink and 6 down lights in the ceiling.
There is a fan assisted electic oven with electric hob and extractor fan. Ample kitchen units complement the Fisher & Paykel Double Dishdrawer under the draining board that is next to the sink. There is also space for a fridge and a microwave.
On the other side is the dining area. It measures 2m30 x 3m70 with a 5 bulb ceiling chandelier, telephone socket, mains sockets and a North-West facing window. A wood panel door leads through to the laundry room, although one might contemplate removing the wall there to make the dining area into an open plan sun lounge.
Bedroom #2
3m66 x 2m90 means ample space for a double bed and vanity desk. The high ceiling at 2m70 leaves room on top of the double mirror wardrobe, to stash things you don't need immediately.
South-West facing big double glazed window lets in plenty of light and evening sun while keeping the cold and noises out. It has two panes that open with lockable security latches.
There is a traditional light bulb on the ceiling and three double mains sockets for alternative lighting and other uses. Just high enough to avoid bumping my head (at 1m75 from the floor) a wooden shelf runs the full length of the room. It will be easy to remove if you have no use for it.
Bedroom #3
At 2m72 x 2m50 this room is still big enough for a double bed, and would alternatively make a nice study, or hobby room. There are two LED down lights and a South East facing window that gets you the early morning sun.
The mirror wardrobe does contain the modern mains pressure hot water cylinder. Keeps your clothes dry and warm, but doesn't leave a lot of space for your ball gowns.
There is potential to remove the remains of a chimney breast, thus gaining some extra space, but my solution was a raised Queen size bed giving a walk-in wardrobe underneath it. At 2m70, the ceilings in this house do give some height to play with! Alternatively you might put a desk under it.
This custom made bed is currently still available for sale separately.
Living Room
The entrance hallway is to the right. The living room measures 4m by 3m20. There is a heat pump and 4 led lights on a dimmer switch. A sliding door goes off to bedroom #3 and the other sliding door opens to the kitchen. There is space for a small dining table on that side.
On the other side is the North-West facing window where sunlight streams in. The TV socket is in the shade and the space can double as an office.
Bathroom
Owing to the cavity wall slider entrance to the bathroom, it is deceptively spacious despite being only 1m68 x 2m85. The window is double glazed and can be latched with a tiny aperture for ventilation, but there is also an extractor fan and a heater.
The shower is mains pressure. There is a bath, a sink, the toilet and some nice features such as the heated towel rail and mirrored cabinet.
Location
I took this selfie on MacKenzie Avenue two years ago. It is a quiet street that runs North West and, designated a cycle route it has a 30km/h speed limit.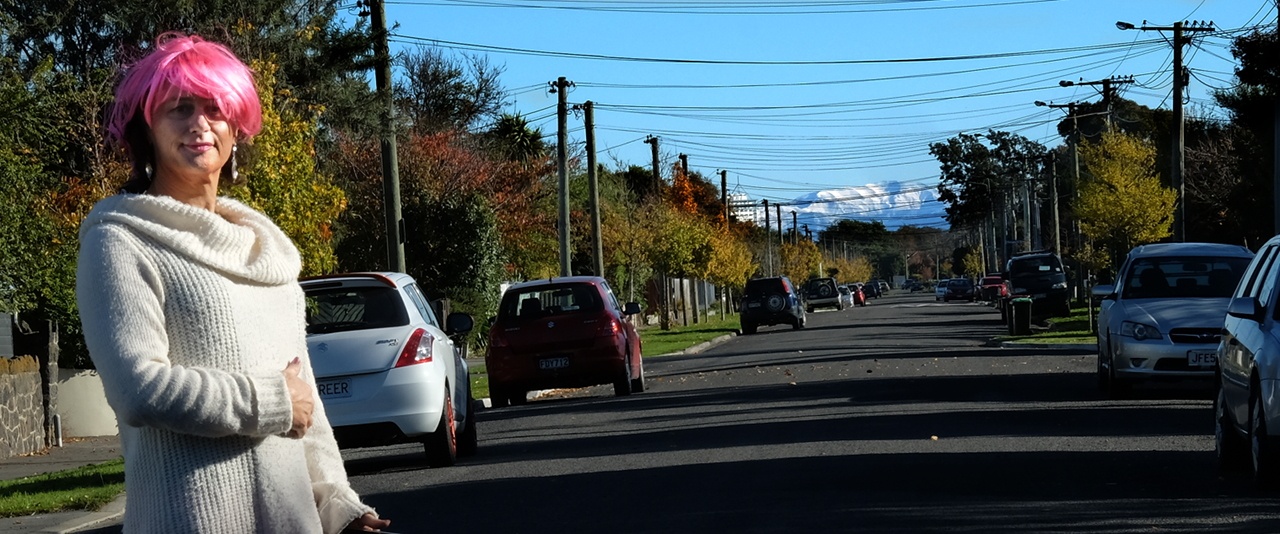 Within cycling distance are several excellent schools, like Rudolf Steiner Which is ajacent to the lovely Opawa farmer's market venue. There are also more traditional education establishments and even lower decile schools for less ambitious students. For further study, Christchurch polytechnic is not far. Woolston is a typically blue colar, working class community.